To buy shares of UK stocks like Royal Dutch Shell (RDSA), Unilever (ULVR), HSBC (HSBA), or AstraZeneca (AZN), you will need an online trading platform.
Choosing the right online broker is important. Each share dealing platform charges different fees while offering various investment options, trading tools, and market research.
For our 2021 Review, we spent over 100 hours assessing different UK share dealing accounts. In total, 46 individual variables were assessed to find the best online broker.
Best UK Trading Platforms for 2021
IG - Best Overall Platform
Interactive Brokers - Best for Research and Professionals
Saxo Markets - Best Online Trading Platform
FinecoBank - Excellent pricing
Hargreaves Lansdown - Most Investment Options
Interactive Investor - Balanced Offering
DEGIRO - Best for Low Costs
Best Trading Platform UK Rankings
Scored on 419 data points, here's our final rankings for 2021, sorted by Overall rank.
Your capital is at risk.
Other Trading Platforms
Beyond the seven uk stock brokers listed above, there were five other platforms we reviewed: Barclays, AJ Bell Youinvest, Lloyds Bank, eToro, and Halifax. Here's our high-level takeaways for each broker.
Barclays, "Barclays Smart Investor offers average share dealing commissions (£6 per trade) alongside a good selection of research tools and education. However, there is no dedicated mobile app for share dealing, and the trading tools offered are just average."
AJ Bell Youinvest, "AJ Bell Youinvest offers a mediocre trading platform and decent research tools, including in-house articles and videos. Ultimately, AJ Bell struggles to deliver value in the UK market against brokers that offer a better platform at a lower price point."
Lloyds Bank, "Lloyds Bank can deliver value to the passive fund trader, who places a few fund trades each year and requires little research. Outside of this customer mold, Lloyds quickly becomes expensive (stock trades cost £8 - £11) and can't provide the same trading tools or research as top UK brokers."
eToro, "eToro is great for traders seeking zero-commission stock trades, an efficient platform, and access to copy trading. That said, there are hidden fees, education is sub-par, and eToro doesn't offer the same range of investments as traditional brokers. Your capital is at risk." Read full review
Halifax, "Halifax offers competitive pricing for passive fund traders but quickly becomes expensive for those who trade stocks at least once a month. Halifax provides no dedicated mobile application and, overall, is average compared to industry leaders."
Winner: IG

Overall |
Visit Site
IG is our top UK broker in 2021 thanks to its brilliant online trading platform. Rates are low, trading tools and research are excellent, and the platform is easy to use.
Pricing: IG's share dealing rates are the cheapest of all brokers offering ISA/SIPP accounts. The commission per trade (shares) would be £8 if 0-2 trades were placed in the previous month. If three or more trades were made, the rate is only £3. IG offers free trades on U.S. shares for traders that placed three or more trades in the previous month. The commission for U.S. shares would be £10 if 0-2 trades were placed in the last month.
Trading platform: IG's share dealing platform offers html5 charts, numerous technical indicators and drawing tools, and excellent usability.
Investments: IG enables investors to trade over 12,000 shares across 19 international exchanges, ETFs, investment trusts, and funds. In addition to traditional share dealing accounts, SIPP and ISA accounts are also offered, which is an essential distinction over competitors such as DEGIRO, FinecoBank, and Interactive Brokers.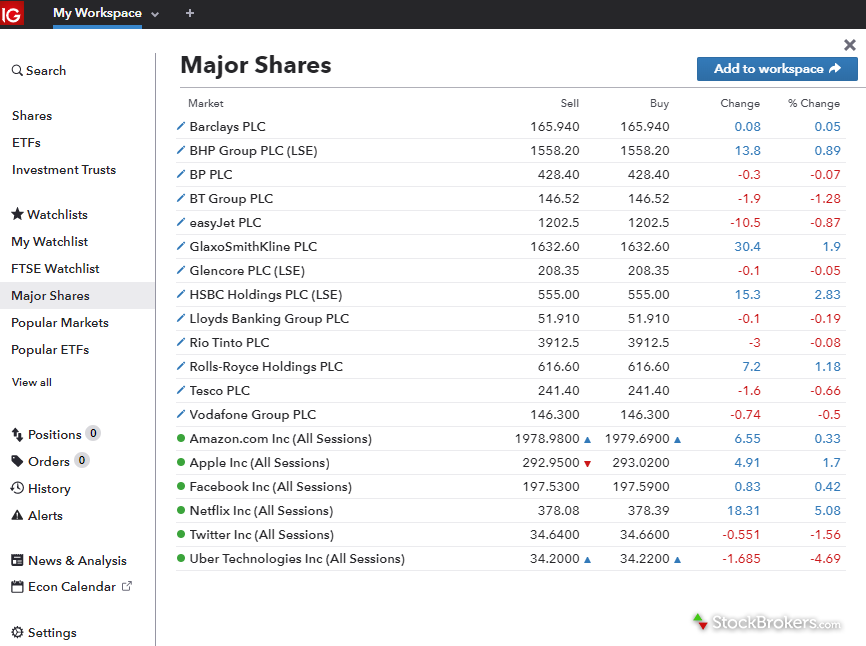 IG online trading platform shares watch list
Runner-Up: Interactive Brokers
Overall |
Visit Site
Professional traders are brilliantly serviced with the trading tools, range of investments, and capabilities of Interactive Brokers. Meanwhile, less-experienced traders can still take advantage of the low commissions and excellent research through the web-based Client Portal platform.
Pricing: With both tiered and fixed commission structures, Interactive Brokers can be one of the cheapest options available, especially for professionals, depending on trading volume and frequency. However, the casual trader must consider inactivity fees, which can be as high as USD 20 per month, for not reaching the minimum monthly commission quota.
Trading platform: Trader Workstation (TWS), Interactive Brokers' downloadable platform, is packed with dozens of industry-leading tools professionals and institutions will appreciate. For inexperienced investors, the Client Portal web-based platform is straightforward and powerful enough to use as a trading platform, thanks to the Fundamentals Explorer tool.
Investments: While Interactive Brokers does not offer ISA/SIPP accounts directly to UK residents, globally, customers can trade across more than 135 international markets in 33 countries. In addition to stock trading, Interactive Brokers offers ETFs, funds, investment trusts, warrants, options, futures, forex, bonds, and CFDs.

Interactive Brokers online trading platform shares quote
Which trading platform is best for beginners UK?
IG is an excellent broker for beginners, offering an easy to use trading platform and mobile app, thorough educational content for beginners, and a variety of quality research for stocks and funds. Lastly, IG's share dealing rates are the cheapest of all brokers offering ISA and SIPP accounts.
What UK stock broker offers the lowest fees?
For low cost share dealing in the UK, DEGIRO and FinecoBank offer the lowest fees overall. DEGIRO's fee for trading individual shares in the UK is £1.75 + 0.014% per trade, with a maximum charge of £5.00. FinecoBank charges £2.95 for UK shares and ETFs. Neither DEGIRO or FinecoBank charges any inactivity fees or imposes any minimum monthly commission requirements.
What are the best UK stock trading apps?
Saxo Markets, Interactive Brokers, and IG all offer brilliant stock trading apps that include numerous trading tools for share dealing. Meanwhile, Hargreaves Lansdown offers a comprehensive, easy to use mobile app that is great for everyday share investors. Compare Saxo Markets vs IG vs Interactive Brokers vs Hargreaves Lansdown.
Looking for forex trading apps? See our picks for best forex trading apps on our sister site, ForexBrokers.com.
What is the best trading platform in the UK?
The SaxoTraderGO platform from Saxo Markets is the best online trading platform in the UK. SaxoTraderGO comes loaded with trading tools and excellent usability, regardless of whether you are a beginner or seasoned trader. Like the SaxoTraderGO web platform, the SaxoTraderGO mobile app is also brilliant. The one downside of Saxo Markets is pricing, which is more expensive than most UK brokers.
How do you choose a share dealing platform?
When choosing a share dealing platform, first consider the investment and account options available. For example, not all UK brokers offer ISA and SIPP accounts, nor do all UK brokers support US shares trading. Next, compare the trading fees and any monthly or quarterly account fees. Finally, assess the trading platforms themselves by comparing the mobile apps, trading tools, and available market research.
How do I buy stocks online in the UK?
To buy stocks online, first, you must select a UK broker, then open and fund the account. Next, research the stocks you want to buy using the trading tools and market research provided with the online trading platform. Once you choose a stock to buy, fill out the order ticket with the number of shares you want to purchase, then place your trade. Congratulations, you now own shares of stock.
What is an ISA?
An Individual Savings Account is a means of tax-free saving and investing. Currently, for the 2019/20 tax year, an individual can save up to a maximum of £20,000, which can be held in a stocks and shares ISA, a cash ISA, a Junior ISA, an innovative finance ISA, a Lifetime ISA, or in a "Mix and Match" combination of these.
What is a SIPP?
A Self-Invested Personal Pension (SIPP) is a tax-efficient means of saving funds for retirement in the UK. SIPPs are government approved and enable individuals to make their own investment decisions. Unlike more traditional pension models where investment choice is often restricted to a limited number of funds, a SIPP offers investors the ability to self-direct their investments.
Methodology
For the 2021 StockBrokers.com UK Review we assessed, rated, and ranked twelve UK share dealing platforms. Each broker was graded on 46 different variables and, in total, over 14,000 words of research were produced. Our rigorous data validation process yields an error rate of less than .001% each year, providing site visitors with quality data they can trust. Our team.