Best UK Trading Platforms 2022
The UK.StockBrokers.com best trading platforms review took three months to complete and produced thousands of words of research and hundreds of data points. Here's how we tested. Our editorial content is independent and unbiased; here's how we make money.
If you want to trade or invest in stocks and shares in the U.K., or invest in exchange-traded funds (ETFs), mutual funds or an investment trust, you will need to open an online trading account.
Picking the right online broker for you, that suits you, is therefore an important choice — and not necessarily a simple one. Each share dealing platform charges different fees while offering various investment options, trading tools, education, and market research.
For our 2022 Annual Review, we spent over 10 weeks assessing multiple U.K. share dealing accounts. In total, 53 individual variables were assessed to find the best online broker.
Best UK Trading Platforms for 2022
IG - 4.5 stars - Best overall
Interactive Brokers - 4.5 stars - Best for research and professionals
FinecoBank - 4.5 stars - Excellent pricing
Trading 212 - 4.5 stars - Easy to use
Saxo Markets - 4 stars - Best online trading platform
Freetrade - 4 stars - Cost and simplicity

Best overall
| | |
| --- | --- |
| Minimum Deposit | $0.00 |
| Charting - Drawing Tools | 19 |
| Charting - Indicators / Studies | 31 |
IG stands out as a top U.K. broker, thanks largely to its excellent online trading platform. Rates are relatively low, trading tools and research are outstanding, and the platform and mobile apps are easy to use. Read full review
Pros
Wide offering of investment choices
Competitive commission rates
User-friendly, robust trading platform and mobile apps
Cons
Commissions are not as low as at some newer competitors
Research, though strong, still has room for improvement
Best for research and professionals
| | |
| --- | --- |
| Minimum Deposit | $0.00 |
| Charting - Drawing Tools | 84 |
| Charting - Indicators / Studies | 98 |
Professional traders are brilliantly serviced with the tools and capabilities of Interactive Brokers. Less-experienced traders benefit from the low commissions and excellent research available in the web-based Client Portal platform. Read full review
Pros
Extremely competitive commission structure for both casual and frequent traders
Two robust platforms serve both professional and less-experienced traders
Far-reaching offering of investment choices
Cons
ISA and SIPP accounts are not available
Visit Site
Exclusive: New client offer, special margin rates.

Excellent pricing
| | |
| --- | --- |
| Minimum Deposit | $0.00 |
| Charting - Drawing Tools | 3 |
| Charting - Indicators / Studies | 22 |
For the price-conscious trader, FinecoBank is a solid share dealing option with a broad range of investment options; but educational materials and research reports are lacking. Read full review
Pros
Low costs for buying shares in the U.K. and overseas
Broad range of products, including stocks, ETFs, funds, bonds and CFDs
Now offers ISA accounts
Cons
Average trading platform and mobile app
Room for growth in educational or research content
Easy to use
| | |
| --- | --- |
| Minimum Deposit | $1.00 |
| Charting - Drawing Tools | 19 |
| Charting - Indicators / Studies | 54 |
Trading 212 offers low-cost trading without lots of bells and whistles. Though tools, research and investments are limited, its user-friendliness and pricing may be an attractive option for the beginner trader. Read full review
Pros
Zero commission on all trades
User-friendly platform and mobile app
Fractional shares available
Cons
0.70% fee for deposits above £2,000
Educational content is average
Research is limited

Best online trading platform
| | |
| --- | --- |
| Minimum Deposit | $500 |
| Charting - Drawing Tools | 20 |
| Charting - Indicators / Studies | 62 |
Saxo Markets offer an excellent share dealing experience by combining the brilliant SaxoTraderGO trading platform with over 30,000 international products. Pricing, though, is higher than most of its U.K. competitors. Read full review
Pros
Excellent, user-friendly SaxoTraderGO trading platform
Equally strong mobile trading app
Extremely broad product offering, including SIPP and ISA accounts
Cons
Cost and simplicity
| | |
| --- | --- |
| Minimum Deposit | $0.00 |
| Charting - Drawing Tools | 1 |
| Charting - Indicators / Studies | |
Freetrade's commission-free model allows trading of fractional shares with a user-friendly mobile trading app, and the educational offering is of good quality. Research and range of investments are limited, however, and there is no online trading platform. Read full review
Pros
Zero commission for trading major U.K. and U.S. shares
Stocks, fractional shares, ETFs, investment trusts, SPACs and REITs
User-friendly mobile trading app
Cons
Limited research
No online trading platform
Cannot invest in bonds or funds
Best Trading Platform UK Rankings
Scored on 419 data points, here are our final rankings for 2022, sorted by Overall rank.
Your capital is at risk.
Other trading platforms
In addition to the six U.K. stockbrokers listed above, we reviewed five other platforms: DEGIRO, Capital.com, eToro, Hargreaves Lansdown, and Interactive Investor. Here are our high-level takeaways for each broker.
DEGIRO: DEGIRO offers cheap stock trading on a modest trading platform, charging only £1.75 + 0.014% per trade, with a maximum charge of £5. Fees for trading funds, however, are more costly. DEGIRO does not offer ISA or SIPP accounts and lags competitors in fundamental research and education. Read Full Review
Capital.com: The lowest fees in our annual review come from Capital.com, with commissions at zero and no "hidden" charges. This is clearly attractive, though the limited offering of investment options and lack of web-based or desktop trading platform mean Capital.com comes up short for an investor or trader looking for the complete package. Previously better known for its CFD trading platform, Capital.com have branched out to offer direct investing and trading in shares. Read Full Review
eToro: If you're looking for a broker with zero-commission stock trades and a functional and easy-to-use platform, with the bonus of an excellent copy trading option, then eToro may be the broker for you. Do watch out for the hidden fees, and know that the research area and range of investments on offer are not as robust as at many of the more traditional brokers. Read Full Review
Hargreaves Lansdown: Hargreaves Lansdown provides an extremely thorough and comprehensive selection of investment options and very high-quality research (some of which is created in-house) alongside a user-friendly mobile app. However, pricing is expensive, the charting tools are average and educational resources are only in line with industry standards. Read Full Review
Interactive Investor: Interactive Investor, or ii, is a good choice for investors who desire research reports and in-house recommendations for funds. But fees are high given the below-average tools, platform, and mobile app on offer. Interactive Investor struggle to remain competitive with commissions and fees, particularly for fund investors and active share traders. Read Full Review
Winner: IG

IG is our top pick for best broker in the U.K. in 2022. In addition to offering a wide range of markets that you can trade, IG offers powerful research, excellent educational resources, and industry-leading trading platforms that cater to clients of all experience levels. IG gives you the ability to easily switch between your retirement (ISA and SIPP) and share-trading accounts, and offers competitive pricing as well. Read our full review of IG.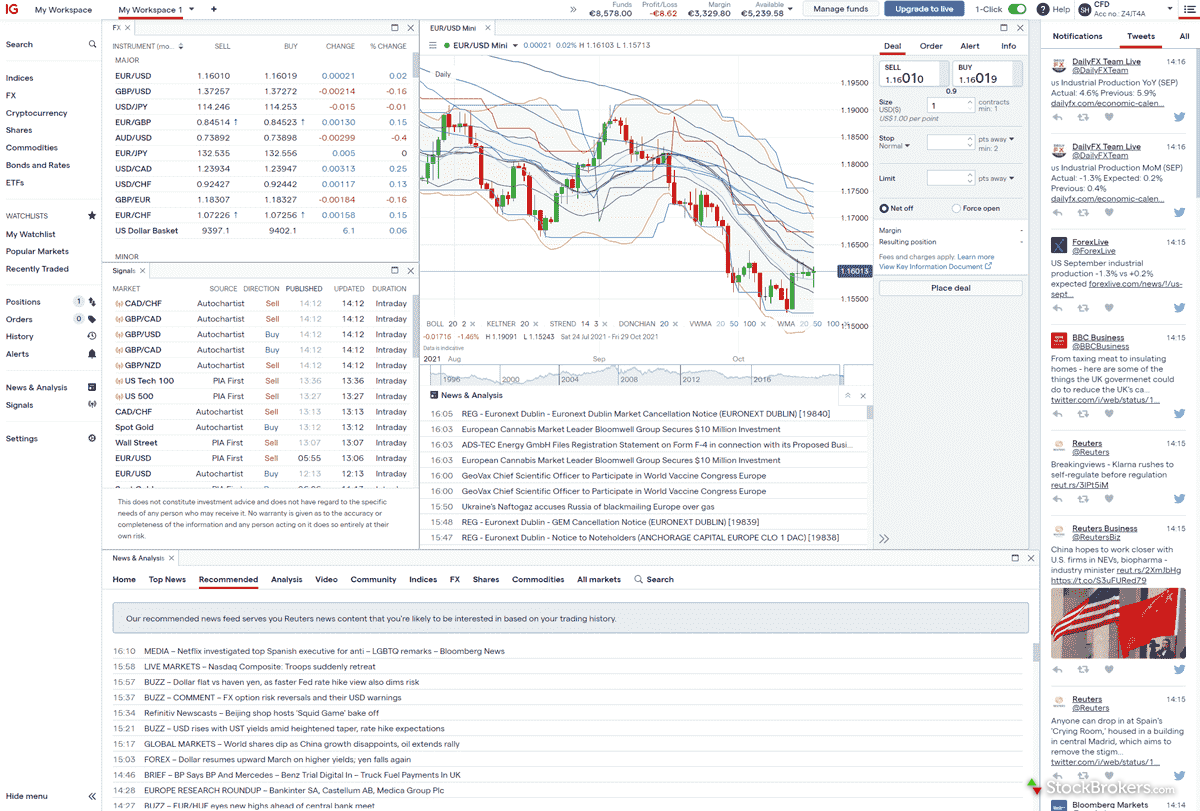 IG trading platform.
Runner-up: Interactive Brokers
Interactive Brokers is a great choice not just for professional traders in the U.K. but also for retail investors who need access to a wide range of global markets in addition to local markets. The Trader Workstation (TWS) platform and more recently launched platforms IBKR GlobalTrader and IMPACT come with a multitude of features and trading tools, including dozens of research channels, comprehensive educational content, and competitive commissions. Read our full review of Interactive Brokers.

Interactive Brokers' Trader Workstation.
Podium finisher: FinecoBank

FinecoBank is a trusted brokerage that offers U.K. traders access to a wide variety of markets and investment products, With a growing array of educational content, Fineco offers competitive rates and trading platforms that are not overly complex with a good ease-of-use factor for all investor types. Read our full review of FinecoBank.

FinecoBank web platform screener.
What is the best trading platform in the UK?
The SaxoTraderGO platform from Saxo Markets is the best online trading platform in the U.K. SaxoTraderGO comes loaded with trading tools and excellent usability, regardless of whether you are a beginner or seasoned trader. Like the SaxoTraderGO web platform, the SaxoTraderGO mobile app is also brilliant. The one downside of Saxo Markets is pricing, which is more expensive than most U.K. brokers.
Which trading platform is best for beginners in the UK?
The best trading platform for beginners in the U.K. should emphasise education, ease of use and low cost. Based on these factors, the best trading platform for beginners in the U.K. are:
IG - 4.5 stars - Strong on education, simple but functional app and platform, and relatively low costs.
FinecoBank - 4.5 stars - A well-rounded product with excellent pricing.
Trading 212 - 4.5 stars - Easy to use and "zero" commissions (there are some fees).
Freetrade - 4 stars - Simple to use, low cost, and offers fractional shares.
What is the best free trading platform in the UK?
While commission-free trading is currently the norm among U.S. online stockbrokers, commissions and fees are more common in the U.K. and can be a differentiator when you choose a broker. And while the trading platforms are free to use from the following brokers, you may still incur some trading costs, even if a broker advertises commission-free trading. After factoring in all trading-related costs, here are some standout brokers in our analysis of commissions and fees.
Capital.com: Zero commissions for stock trading; competitive spread and no hidden fees.
DEGIRO: £1.75 + 0.014% per trade, with a maximum charge of £5.
FinecoBank: £2.95 for U.K. shares and ETFs; no minimum monthly commission.
Freetrade: Zero commissions for trading major U.K. and U.S. shares, but foreign exchange carries a cost.
Trading 212: Zero commissions, but 0.70% fee for deposits above £2,000.
IG: Competitive commission rates with a full-service brokerage.
How do you choose a share dealing platform?
When choosing a share dealing platform, first consider the investment and account options available. For example, not all U.K. brokers offer ISA and SIPP accounts, nor do all U.K. brokers support U.S. shares trading. Next, compare the trading fees and any monthly or quarterly account fees. Finally, assess the trading platforms themselves by comparing the mobile apps, trading tools, and available market research. Ease of use is another area you may want to consider if you are a new trader.
What are the best UK stock trading apps?
Our picks for the best U.K. stock trading apps for 2022:
Saxo Markets - Best overall stock app
Hargreaves Lansdown - Best stock app for longer-term, professional investors
Interactive Brokers - Best stock app for usability
IG - Best stock app for traders
Fineco Bank - Best stock app for simplicity
Does Robinhood work in the UK?
Robinhood, the popular stock trading app, is not currently available in the U.K., with plans for a U.K. launch having been postponed during the pandemic. In April 2022, the company announced plans to offer crypto trading in the U.K., and eventually Europe, following the acquisition of Ziglu Limited, a Britain-based digital currency app.
Is day trading legal in the UK?
Yes, day trading is legal in the U.K. Day trading is simply buying and then selling a particular asset, such as a share in a company like BP, within the same trading day. Although there are no regulatory blocks to day trading, it's important to trade through a regulated and trusted broker, such as those in our annual analysis of the best brokers. The providers in our review are regulated in the U.K. by the respected Financial Conduct Authority, or FCA.
How much do stockbrokers charge in the UK?
There are a number of different pricing models used by stockbrokers in the U.K., which yields a significant difference in charges. Some of the disruptors in the U.K. stock brokerage world, such as Freetrade and Trading 212, offer commission-free trading; but sometimes there are other fees, which we note in our annual review of brokers in the U.K. Some providers charge a flat fee, such as £9.99 per trade, whilst others charge a percentage of the value of the trade, with a minimum or maximum commission — for example, 0.02% maximum or £5 minimum.
Here's a breakdown of the commissions and fees charged by the top three brokers in our annual review.
Feature
IG
Visit Site
Interactive Brokers
Visit Site
FinecoBank
Minimum Deposit
£0.00
£0.00
£0.00
Share Trading: 0-9 Deals/ Month
£3 to £8
£3.00
£2.95
Share Trading: 10-19 Deals/ Month
£3.00
£3.00
£2.95
Share Trading: 20+ Deals/ Month
£3.00
£3.00
£2.95
Annual Custody Fee: £0 - £250,000
£96 (can reduce by trading)
0%
0.25%
Bonds - Government (Gilts) - Fee
N/A
0.1% (2 euro min)
£6.95
ETFs - Fee
£8.00
£3.00
£2.95
Investment Trusts - Fee
£8.00
£4.95
N/A
Telephone Dealing Fee
£40.00
£25.00
N/A
What UK stockbroker offers the lowest fees?
Notably low-cost share dealing in the U.K. is offered by market disruptors such as Capital.com, Freetrade and Trading 212, who cite zero-commission trading — although there are some other costs and fees users may incur, as detailed in our annual review of the best U.K. brokers. DEGIRO and FinecoBank also offer low fees for trading individual shares: DEGIRO's fee for trading individual shares in the U.K. is £1.75 + 0.014% per trade, with a maximum charge of £5; FinecoBank charges £2.95 for U.K. shares and ETFs.
How do I buy stocks online in the UK?
To buy stocks online, follow these steps.
Select a U.K. broker, then open and fund the account.
Research the stocks you want to buy using the trading tools and market research provided.
Once you choose a stock to buy, fill out the order ticket with the number of shares you want to purchase.
Place your trade.
You now own shares of stock! For more educational resources before you start trading, we recommend reading StockTrader.com's 10 great ways to learn stock trading.
How can I trade forex in the UK?
The first step in trading forex in the U.K. is to choose a broker that is regulated and authorized by the Financial Conduct Authority, or FCA, and open a trading account. Note that it's important to read the full terms and conditions of your account agreement, which governs the relationship you have with your broker.
Next, to execute trades, you must fund your account with a small amount of capital that you can afford to risk. Here are three steps to take after opening an account:
Learn the platform. Before trading, learn how your broker's trading software works. Some brokers offer virtual, or "paper," trading, which allows you to practice without risking real money. Explore any free educational content that's available about the platform.
Develop a strategy. Once you feel fluent with your broker's trading platforms, outline a basic strategy for yourself that includes risk management. The next step will be to identify entry points and exits (the price you plan to enter and exit the market) for a given currency pair.
Trade your plan. Once you identify a price and direction you would like to enter, a market order or limit order can help you establish an open position; you can also attach a stop-loss order and take-profit limit order to manage the risk/reward of your investment.
How do I choose a forex broker in the UK?
The broker you choose should be regulated and authorized by the Financial Conduct Authority (FCA) and highly trusted, meaning the broker has many years in operation and holds numerous regulatory licenses.
Ideally, the broker will rank highly in all the categories that are important to you. For example, you should choose an FCA-regulated broker that can give you access to the markets you want to trade, from within excellent online trading platforms (web-based or desktop-based software) and mobile trading apps. The best forex brokers in the U.K. also offer comprehensive educational content and a rich offering of research tools in various media formats, such as articles, news headlines, videos and webinars.
For more insight, see our top picks among U.K. forex brokers on sister site ForexBrokers.com.
Who is the best forex broker in the UK?
IG holds the title of best forex broker in the U.K. in 2022. IG ranks at or near the top of almost every category in our analysis, including Platforms & Tools, Mobile Trading Apps, Research, and Education, as well as the Offering of Investments category thanks to its wide range of markets. U.K. residents can access spread betting, share trading, ETFs, and investment trusts, as well as forex and CFDs. See a full review of IG's forex offerings on our sister site, ForexBrokers.com.
What is an ISA?
An Individual Savings Account is a means of tax-free saving and investing. Currently, for the 2021/22 tax year, an individual can save up to a maximum of £20,000, which can be held in a stocks and shares ISA, a cash ISA, a junior ISA, an innovative finance ISA, a Lifetime ISA, or in a "Mix and Match" combination of these.
What is a SIPP?
A Self-Invested Personal Pension, or SIPP, is a tax-efficient means of saving funds for retirement in the U.K. SIPPs are government approved, and enable individuals to make their own investment decisions. Unlike more traditional pension models where investment choice is often restricted to a limited number of funds, a SIPP offers investors the ability to self-direct their investments.
Summary
To recap, here are the best share dealing platforms overall for 2022.
Methodology
For the 2022 StockBrokers.com U.K. Review, we assessed, rated, and ranked 11 U.K. share dealing platforms over a 10-week time period. Each broker was exhaustively tested on all available platforms and graded on 53 different variables, with testing done on devices for both Apple and Android operating systems. In total, over 17,000 words of research were produced.
We thoroughly tested and compared features of prime interest to investors, including but not limited to:
Offering of investments, such as whether the broker offers trading of shares, CFDs, ETFs, funds and bonds.
The commissions and fees charged.
Functionality and design of mobile apps.
Quality of desktop trading platforms and a fluid experience moving between app and desktop.
Usability of tools such as charting and watch lists.
Market research, such as screening, news and analysis.
Educational resources including tutorials, online courses, videos, webinars and articles.
Our rigorous data validation process yields an error rate of less than .001% each year, providing site visitors with quality data they can trust. Our lead researcher and writer, Steve Miley, is a finance industry veteran with more than 30 years of experience in financial markets. Steve's expertise is backed by a team of experienced content strategists, data auditors, editors and project managers who work to ensure our StockBrokers.com reviews are the most unbiased and complete reviews in the industry. Read more about our team.
About the Editor
Carolyn Kimball is managing editor for Reink Media and the lead editor for the StockBrokers.com Annual Review. Carolyn has more than 20 years of writing and editing experience at major media outlets including NerdWallet, the Los Angeles Times and the San Jose Mercury News. She specializes in coverage of personal financial products and services, wielding her editing skills to clarify complex (some might say befuddling) topics to help consumers make informed decisions about their money. Read more about Carolyn.
About the Author
Steve Miley With 30 years of experience in institutional financial markets, Steve has won multiple awards from Technical Analyst Magazine, including "Best Independent Fixed Income" and "Best FX Research." In addition to his work with StockBrokers.com, Steve is the founder of The Market Chartist, where he provides market research for institutional clients; and is editor-in-chief for FXExplained.co.uk.